1.
If you're anything like me, you spent at least part of your Spring Break doing some spring cleaning! Well.... why not spring clean your TpT wishlist too?
Everything in my store will be 20% off on Saturday and Sunday.
Thanks to
Krista
for the adorable graphic... and be sure to scroll to the end of this post to see who else is having a sale! HOPPY Shopping!!
2.
What do you do when you've collected 15 coffee cans? Make Splat the Cat retelling stations, of course!! I have this incredible group of 15 friends that love to meet and do "swaps". This time our project was make a retelling station... so, you make 15 of the same activity and then you leave with 15 different retelling stations! I'll post soon about how I made this Splat the cat retell with bonus rhyming activity on his tail. I will show you the FUN ideas my friends created too!!
3.
We tried this egg activity to finish up our magnet unit. I saw this on someone's blog (please refresh my memory, if it was yours!!) and loved that it blended marble painting and magnet exploration. I loved the variety too--some kiddos made eggs that were more "random" and other kiddos really rolled their marble magnets in a design. Plus, it was the perfect project for our last day before break!!
4.
We are on spring break this week... and lovin' every minute! Everyone made their own Flat Kindergartner before we started our break. I was so impressed with the
detail
they added to their flat selves!! My kiddos will bring back their Flat Kindergartner and his/her journal next Friday so we can all hear about their incredible adventures over spring break.
5.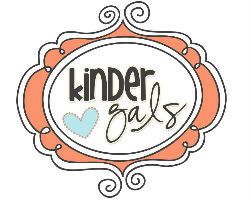 Today I had the nicest lunch with
Kim Adsit and Megan Merrell
! This amazing duo is just as smart and FUNNY in person as they are on their incredible blog,
Kinder Gals.
Be sure to check out their
store
too!! It's amazing how fast 3 hours can pass when when you're chatting away with sweet ladies like these. :o)
I hope you'll link up too... this is one of my favorite
linkies
!!
Here are some of the other sales going on: