I hope you're enjoying teacher week over at Blog Hoppin' as much as I am! Without further ado... my three favorites: font, blog, and online resource!!
Font
I am so happy that I learned about all the Kevin and Amanda fonts this summer... I have had so much fun exploring them! There are a lot of favorites!! But the fonts I always gravitate to for school are from a little CD I got way back when (I think my 1st or 2nd year teaching). It's called Fonts for Teachers. I love ABC print and ABC print lined, because they look just like the print we want them to do (and "lined" adds standard handwriting lines).
Blog
I have found so many UNBELIEVABLY talented teachers this summer... through all my blog hopping. It is so hard to choose just one favorite blog!! But I really was inspired by Hadar at Miss Kindergarten to start my own! I think she has terrific ideas and a wonderful way of sharing them... THANKS, Hadar!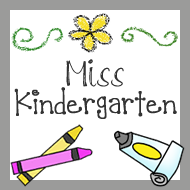 Online Resource
Anyone who knows me, knows that I LOVE using and integrating technology in my classroom. There are so many amazing resources available to use in the classroom that make your day to day lessons and activities so much more effective!
One of our favorites is BrainPop Jr. The kids love the little snip-its and they are short, sweet, and to the point--while being right on target with our SOL's (Standards of Learning)